Personal
Security
Shop and bank safely online
Built upon our legendary anti-spyware and antivirus protection, Ad-Aware Personal Security real-time web-filtering technology safeguards your PC against phishing attacks and online scams, allowing you to stay protected on social networks and giving you the confidence you need to shop and bank online.

Try it Free!

Download a Trial Version of Ad-Aware Personal Security and try it risk-free for 30 days.

Product Manuals (PDF)

Renew/Upgrade

Click here if your copy of Ad-Aware Personal Security has expired or if you'd like to upgrade your current copy.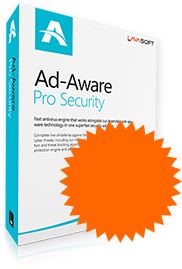 Only

more
Limited Time Offer
Upgrade to Ad-Aware
Pro Security
► Advanced Firewall
► Real-time email protection
► Safe Networking

Ad-Aware Pro Security
/