Privacy
Toolbox
Safeguard Your Information From Prying Eyes
The Lavasoft Privacy Toolbox integrates in a convenient package advanced file shredding with military-grade encryption technology to keep your data safe and secure from prying eyes.
Technical
Specs
Processor

P733 MHz or better

Free hard disk space

15 MB

Minimum RAM

10 MB

Supported Languages

English, French, German, Italian, Spanish, Simplified Chinese

Supported Operating Systems

Windows 8 (32- & 64-bit), Windows 7, Windows Vista (32 and 64-bit), Windows XP (SP2+,32-bit)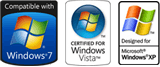 * You are not purchasing, licensing or obtaining this product from Microsoft
Overview &
Features
With prying eyes able to access all kinds of private data through your computer, you need strong solutions to ensure your security. The Lavasoft Privacy Toolbox will help you take full control of your digital information with both the File Shredder and the Digital Lock in one powerful data security application.
Data
Encryption
Military-Grade Encryption Technology
Strong encryption technology supports several encryption algorithms: AES standard 256 bits, Blowfish 448 bits, Twofish 256 bits, SafeIT Algorithm 480 bits, Hash-Algorithm MDS.
Protect Files with Multiple Encryption
Encrypts a file more than once and use different combinations of passwords and encryption algorithms for added control.
Web Control
Increases online security with features such as unsafe website access restriction and anonymous surfing.
Easy to Use
Simply right-click, use the drag-and-drop functionality, or browse for the files you want to encrypt.
Shred and Encrypt All File Formats
Gives you the opportunity to shred the original file after successful encryption.
Send Encrypted Files Securely
A built-in encryption reader allows your authorized recipient to decrypt your files.
File
Shredding
Permanently Removes Any Sensitive Digital Information
Permanently removes any sensitive digital information from your computer such as Word documents, Excel files, PowerPoint files, music files, videos, photos and more.
Really Clean Up your Computer's History
Use the "Shred all free space guide" to clean your computer from its browsing history, chat logs, old deleted files and their hidden copies still stored on your drives.
Military-Grade Shredding Algorithms
Supports the Department of Defence (DoD) shredding algorithm by using seven rounds of overwriting and all other advanced digital shredding standards.
Easy to Use - Shred Everything with One Click
Lavasoft Privacy Toolbox is very easy to use. Select a file to be shredded with a single right-click or use the convenient "Shredding Bin" icon on your desktop.