Advanced Two-Way
Firewall
Keep the bad guys out and your personal data in.
Even if you don't actively browse the web, a rising number of applications are connecting your computer to the Internet, looking for updates and feeds. However, not all of the connection requests are legit...

Malicious programs and files can look for passwords, bank account or social security numbers located on your PC, or can simply monitor your browsing patterns and log your keystrokes on your computer in order to send information across the Internet to cybercriminals.

Our two-way firewall complements and enhances the protection offered by your typical router and provides more robust security than the built-in Microsoft Windows Firewall (they only check for incoming data) by monitoring which applications are attempting to send data out (outgoing traffic).
Technical
Specs
Processor

P733 MHz or better

RAM

512 MB (1GB recommended)

Hard Disk

300 MB free space recommended

Supported Languages

English, French, German, Italian, Spanish, Simplified Chinese

Supported Operating Systems

Windows 8 (32- & 64-bit), Windows 7, Windows Vista (32 and 64-bit), Windows XP (SP2+,32-bit)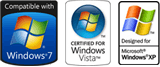 * You are not purchasing, licensing or obtaining this product from Microsoft