Outstanding protection for your PC
Complementing its proprietary anti-spyware technology with one of the best antivirus engines available today (Bitdefender), Ad-Aware 11 features a packed, lean and powerful anti-malware solution, without the conflicts or slow-downs typically associated with running multiple security programs.

Our extensive in-house tests have revealed that even our free product, Ad-Aware Free Antivirus+, easily bested some of the most complete security suites from our competitors. This testing revealed that Ad-Aware will closely match Bitdefender's impressive test results in independent lab tests. With such a powerful engine at its core Ad-Aware 11 will provide serious protection against even the most advanced threats.
Ad-Aware significantly outperforms our free peers
Ad-Aware Free Antivirus+ scored extremely well in both real-time tests (against freshest malware) and in on-demand scans (40,000+ samples).
avast! missed 4x more prevalent threats than Ad-Aware
avast! missed 10x more overall threats than Ad-Aware
And totally eclipses pure anti-spyware scanners
We then decided to see how Ad-Aware stands when compared with the two most popular on-demand anti-malware solutions (no real-time protection abilities). The results were impressive:
Malwarebytes missed 55x more malware than Ad-Aware
It's clear that typical anti-spyware programs just don't offer any additional protection anymore...
• Both Malwarebytes and SuperAntiSpyware score much lower than any of the top 3 antivirus on on-demand (scan) protection.
• Malwarebytes detected 52 samples that Ad-Aware Free Antivirus+ didn't but failed to detect well over 14,000 samples that Ad-Aware Free Antivirus+ successfullty detected.
• SuperAntiSpyware failed to detect more than 16,000 samples that Ad-Aware Free Antivirus+ successfully detected.
VB100 Comparative Review on Windows 8.1
The basic requirements for a product to achieve VB100 certification status are that it detects, both on demand and on access, in its default settings, all malware known to be 'In the Wild' at the time of the review, and that it generates no false positives when scanning a set of known clean files. Various other tests are also carried out as part of the comparative review process, including speed and overhead measurements and 'RAP'(Reactive and Proactive) tests. While the results of these secondary tests do not affect a product's qualification for VB100 certification, they are included to provide the reader with a better overall picture of product performance. The testing methods of the VB100 certification process are provided in more detail at http://www.virusbtn.com/vb100/about/100procedure.xml.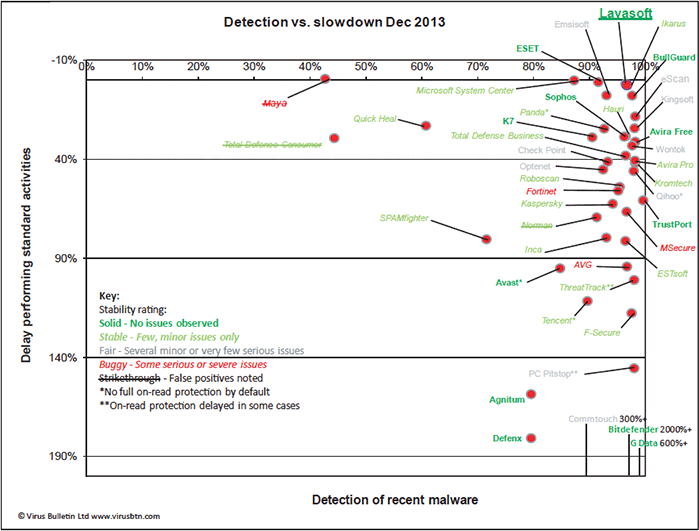 Lavasoft Ad-Aware Free Antivirus+
Main version: 11.0.4555.0
ItW Std: 100.00%
Update versions: N/A
ItW Std (o/a): 100.00%
Last 6 tests: 3 passed, 0 failed, 3 no entry
ItW Extd: 100.00%
Last 12 tests: 3 passed, 1 failed, 8 no entry
ItW Extd (o/a): 100.00%
False positives: 0
Stability: Solid
We saw some major changes for Lavasoft this month, with a new front end combined with a new engine under the covers. Installation was a little slow, party thanks to some additional items that are combined with main product by default, and a reboot is needed at the end of the process. Initial updates also took quite some time.
The new interface looks great, with a nice simple layout and a good set of fine-tuning options. It also seemed nice and responsive even under heavy stress, and there were no stability problems to report.
Scanning speeds were good to start with and very good in the warm runs, while overheads were reasonable throughout. RAM use was a little high, but CPU use very low and out set of activities ran through very quickly.
Detection was very good indeed, especially in the proactive sets, and was closely aligned with other well-performing products using the Bitdefender engine. The core certification sets were deftly handled, and a VB100 award is well deserved, along with our congratulations on a much improved product.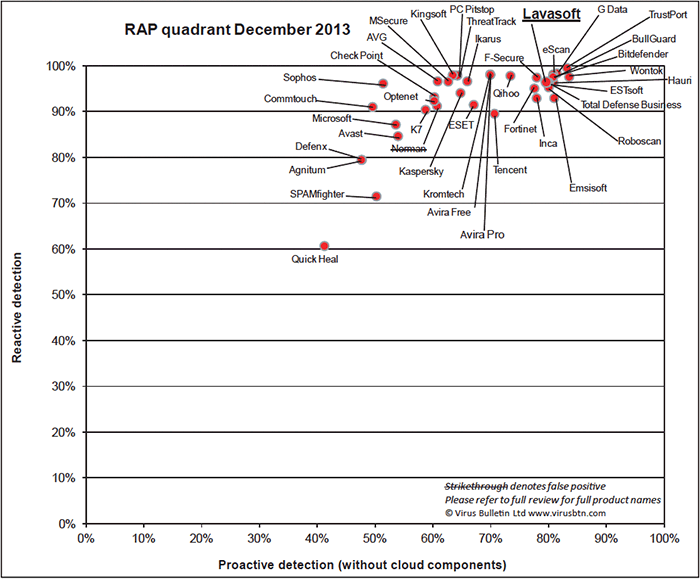 Don't take our word for granted
download Ad-Aware Free Antivirus+ and see it for yourself...