Quick Guide to Ad-Aware's Genotype Detection
- Lavasoft
Ad-Aware now includes new anti-malware technology, called Genotype, to keep you safe from the ever-evolving threats to your online privacy and security. Below is your quick guide to understanding Genotype: what it is, how it works, and the features which guarantee the best protection against the threats of today — and tomorrow.
What is Genotype?
Genotype is a completely new malware detection system, based on heuristics, which is included in Ad-Aware Free Internet Security, Ad-Aware Pro Internet Security, and Ad-Aware Total Security. Among the many advantages of this newly-developed Lavasoft technology, Genotype gives Ad-Aware the ability to find and proactively protect users from threats that have not yet been created, ultimately meaning you stay safer and more secure online.
How does Genotype work?
With traditional scanners, detection of threats is reactive, meaning that threats can only be found and removed once added into detection. With Genotype, Ad-Aware is able to proactively detect newly emerging threats by using a system for cross-referencing properties in current threat samples. These properties are tracked across a set of collections, and are then cross-referenced in order to uncover and rate relationships.
For example, in the image below, columns I, II, and III each represent a known threat in Ad-Aware's Detection Database, and the varying properties (shown by A, B, C, etc) that make up its specific threat signature. The final column shows the signature created for the new threat variant resulting from the three malware samples.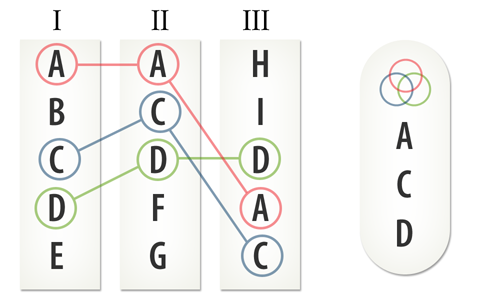 An illustration of how Genotype works
Genotype processes and evaluates the three current threat samples — identifying the most prevalent and unique properties — and essentially captures the core of the threat variant. By cross-referencing properties using Genotype, Ad-Aware is able to assess and discover the strongest possible combined signature that best represents the new threat variant. Herein lies the power of Genotype — enabling proactive protection against evolving versions of threats that have not yet been created.
How does Genotype improve Ad-Aware's detection?

By using heuristics, the Genotype detection system allows Ad-Aware to stay a step ahead of the programs that pose a threat to your online privacy and security, meaning improved protection against today's sophisticated and morphing threats.
Below, we walk you through the technical and not-so-technical meaning behind the highlights of Genotype.
| What our developers say... | What that means for you... |
| --- | --- |
| Genotype uses heuristics to detect evolving versions of threats. | Ad-Aware is able to find and detect newly emerging threats based on Genotype's analysis of the properties of existing threats, allowing you to be protected from threats that have not yet been created. |
| Genotype proactively detects and blocks threats. | Not only can we find and detect threats on your system using Genotype, we're also able to block the potential threats that we've identified as malicious, before they load on your PC. |
| Genotype uses one-pass scanning, allowing for unmatched scalability. | A unique property of Genotype's scanning method — setting it apart from traditional anti-malware scanners — is its use of one-pass scanning. With traditional signature scanning, in order to scan two threat signatures, two passes must be made by the scanner; in order to scan 100 threat signatures, 100 passes must be made by the scanner. With the new Genotype technology, millions of threat signatures are scanned, in just one pass. Regardless of whether Ad-Aware is scanning two or two million signatures, the speed of the scan won't slow down. The end result for you: scanning is always quick and efficient. |
| Genotype proactively detects rogues. | Rogue security programs (also called scareware), applications that masquerade as legitimate security software — often to install malware or steal personal information — are one of today's fastest growing threats to consumers. Through the Genotype technology, Ad-Aware is able to proactively detect and alert you to rogue installations. |
| Genotype is resistant to false positives. | One main problem with heuristics in other security products is that detection is often prone to false positives. Genotype is resistant to false positives, due to the way threats are compared against multiple threat signatures, ultimately meaning better accuracy in what is detected as a threat. |