Get Ad-Aware
10
Instant protection against all types of malware and cyber threats
It's a super fast anti-virus combined with our legendary
anti-spyware that just got a whole lot better.
A deadly combination that blocks and removes the most hardened types of malware on your PC.
Compare Edition
Download Ad-Aware
10
Free and fast antivirus with our legendary anti-spyware
Your complete line-of-defense against malware and cyber threats. Feature packed, lean and powerful anti-malware solution, without the conflicts or slow-downs typically associated with running multiple security programs.
Download
450 million
Downloads
The world's most trusted protection
Online protection for any computer user, regardless of the economic status or geographic location.
Ad-Aware Free Antivirus +, the proactive malware removal tool that combats today's toughest cyber threats.
Compare Edition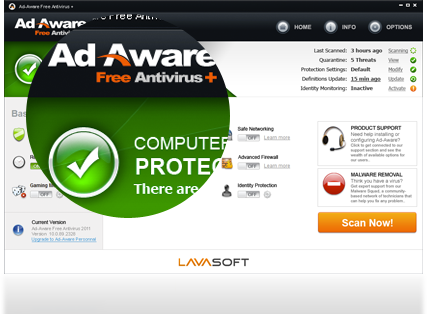 Ad-Aware Awards

Editor's Choice on PCMag
"Ad-Aware Free Antivirus+ 10.5 cleaned up malware-infested test PCs with hardly a hitch, and turned in the best malware-blocking score among recent programs."

AV-Test Certificate
"Ad-Aware passed all of our tests with flying colours and it was therefore easy for us to award the product with an AV-TEST Certification"
View all awards
Stay Updated


Sign-up to our free newsletter and receive updates about the latest threats, tips and tricks on keeping your PC safe and the latest offers from Lavasoft.
Sign-Up
Business Users
While Ad-Aware is only free to consumers, Lavasoft offers attractive packages for businesses of any size. Whether you operate a business or a non-profit, there's an Ad-Aware solution for you.
Other Useful Links